how to make retail signage work harder
AFI Branding 06th October, 2020
Retail signage is an essential component in the marketing process for converting instore experience into sales. Now, more than ever, physical retail signage and activations need to work hard. Really hard. So as many Victorian stores get ready to reopen their doors, what's the key to making sure your brand displays are earning their keep?
1. Understand the objective and context
Before hitting print, we need to understand what we're setting out to achieve. Each piece of instore signage has a role – it is to direct? Inform? Inspire? Upsell? As many physical stores feel the pinch of lockdown, the level of seasonal signage being produced may be reduced in line with lower marketing budgets. It's essential, however, not to make the remaining signage try to do too much. Instead prioritise the messaging and don't be afraid to lose some of it – otherwise there's a danger of bombarding the consumer with too many messages on too little space – ending up with nothing resonating at all. Less is always more with messaging!
Then how does that signage fit in with the rest of the brand's physical presence and the wider store environment? Plan how a target consumer should experience your space and then decide on what signage is needed to deliver that – from beginning to end. We have never had more control over the way a consumer travels through the store than in 2020. And with this new rigidity comes opportunities to take consumers to parts of the store they might not normally visit (think upsell!) and also to deliver a consistent experience for all.
2. Take centre stage
With COVID-19 fast tracking the rise of online shopping (80% increase in first 8 weeks of pandemic), physical stores have a big challenge on their hands to get customers back through their doors. Consider what a physical store can offer that you simply can't get from a screen – we're talking theatre! Think of the old school experience that a Harrods, Hamleys, Fortnum and Mason or Myer Christmas window gives to customers – that simply can't be replicated online. How can you immerse a customer into your brand from the moment they walk past your store – let alone through the doors. It's not about spending big but rather being innovative and then scaling that to the space. Touch and feel might be off the table for now but consider motion sensored lightboxes to engage from a distance. Make it dynamic to capture attention with a choreographed lightshow. Add some drama with a reveal lightbox to keep them guessing! Window shopping has never been more at the forefront.
3. Head outside…for now
With tight restrictions on how many people can be in store at any one time – (and perhaps some initial consumer trepidation), take your brand where the people will be this summer – outside! Think brand activations and retail pop-ups in clever and innovative spaces. Councils and shires across Australia are reviewing the use of public spaces for alfresco dining and retail so there's never been a better time to explore taking your brand to the people. Pop-ups allow a brand to have some fun outside the boundaries of a conventional store. Remember consumers aren't necessarily expecting to find you in your new, temporary location - so use portable signage to get attention and garner excitement. Then branded umbrellas and marquees help with further branding but also weather protection – cue longer visits. Consider recreating a bespoke alfresco store with custom outdoor display solutions that get people talking.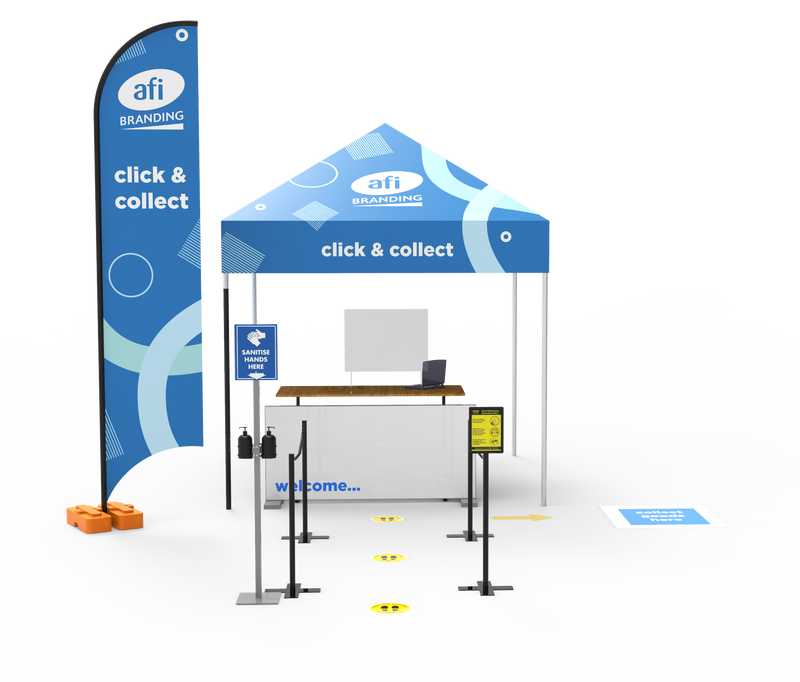 4. Click and collect
With click end collect seeing a significant rise in popularity since the pandemic hit, this now becomes a much more significant touchpoint (or rather contactless touch point!) for retailers with their customers. What are the opportunities for branding, signage displays and experience here? The sale might be done but this is an opportunity to deliver a first-class experience resulting in repeat business. The retailers that capitalise on this opportunity to create a positive and memorable experience, deeper engagement and even a cheeky upsell could be the long term winners.
Physical retail definitely looks different right now – and will need to continue to evolve to stay relevant in a changing landscape. Speak to our team about how we can keep your retail brand the one that people want to continue to experience first hand.