it all starts with design
AFI Branding 25th May, 2021
At AFI Branding, we're big believers in sourcing, producing and manufacturing locally whenever possible. Supporting Australian Made should start right at the beginning, with Australian design. We're lucky, in Australia, to have so much homegrown design talent to help lead the way on a global scale. To celebrate Australian Made week, we check in with Megan Day and Tracey Coad from our in-house Industrial Design team to talk all things design.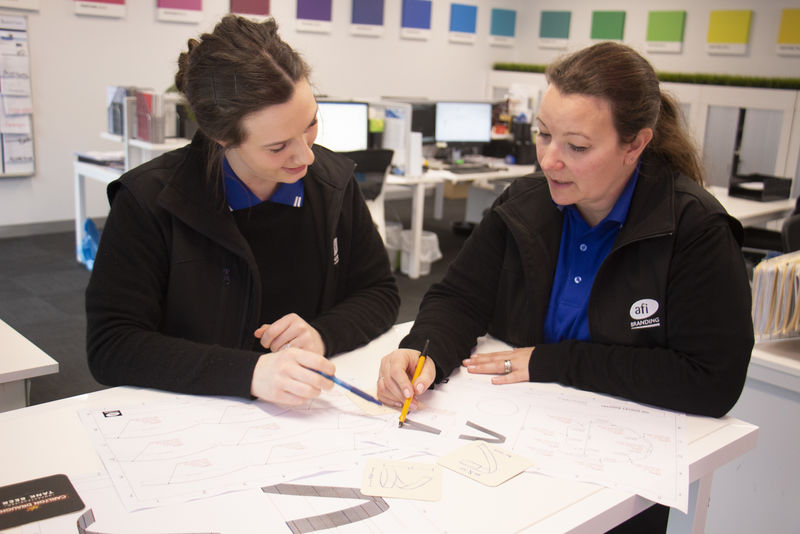 1. How did you both get started as Industrial Designers?
Megan: Originally, I started a Fine Arts degree but moved over to Industrial Design when I thought more about career opportunities. I loved the range of products that required Industrial Designers and knew it was a career that would allow me to be creative.
Tracey: At high school I wanted to focus on Fashion Design, but my design teacher directed me towards Industrial Design and convinced me that the Fashion and Textile design field was just too narrow.
2. What do you find most challenging about Industrial Design?
Megan: At AFI every job is different, so it is often challenging - this means I'm never bored! We are always thinking and trying to improve the way things are done. Things don't always work the first time, but I love how creativity comes from making mistakes.
Tracey: The balancing act between delivering the clients wants and needs to their budget!
3. Tell us about a design you've done that you really liked. Is there a project you are most proud of?
Megan: By far the most exciting project I've worked on will be built at Christmas this year if all goes to plan. I can't say much until then apart from watch this space!
Tracey: Probably the spiral I worked on in my first 6 months here at AFI Branding. It was a real brain teaser to design for production (when primarily using AutoCAD). The 3D element of the spiral made it particularly tricky. It was angled in multiple directions and the radius got organically smaller which presented challenges! But it all came together and nothing quite beats that feeling of seeing your design executed off the page.
4. What has been one of the most detail-oriented projects you've worked on?
Megan: Anything OCTANORM. It is like a giant Meccano set and the range of extrusions and parts means there are no end of possibilities. A couple of years ago, we designed and built an illuminated tower with tv mount and an illuminated hinged door – the brief was to have no shadow lines! So that included lots of different profiles and double miter joints to achieve the desired effect.
Tracey: The birdcage was a project that required a fair bit of detailing as it was such a large structure. Other projects that require a lot of detail include OCTANORM structures and curved lightboxes.
5. What part of industrial design do you enjoy most? Where do you go to seek inspiration?
Megan: I am really enjoying rendering at the moment. I love how it brings a CAD drawing to life. Inspiration depends on the project, if it's for a company, jumping on their website to get a visual of how the company likes to portray themselves is always helpful.
I am very lucky with my team in custom solutions. Tracey is a guru of aluminum, details and exhibition, while Nick is a guru of fabrication and builds. We work well together; I can throw out any ideas I have, they then tell me what parts can or can't work. We then put our heads together and build off each other's ideas until we are all happy.
Tracey: I actually enjoy nutting out the production method, materials and processes required to achieve and deliver a client's design. I take inspiration from everything around me. When you're an Industrial Designer, you can't help but look at everything through a design lens – looking at interesting shapes in architecture or clever designs in products. I'm always making mental notes of things I see. And of course, there's always online where I can get inspired by designs and trends from around the world.
6. What are some of the cleverest designs you admire?
Megan: I was very lucky to get the opportunity to go to EuroShop at the start of 2020 before the world shut down. The designs there were incredible and at a scale I've never seen in Australia.
Tracey: I love designs that utilise bright, colourful and playful printed graphics. It is always good when printed artwork puts a smile on your face! (e.g. The Info booth at dog lovers). As Industrial Designers at AFI, we design and then create the physical structure. More often than not, it requires a graphic design element, often on printed fabric, to fully convey the original concept. The two disciplines work hand in hand.
7. What do you think the design trends are to look out for in 2021 and beyond?
Megan: I think frames are slowly coming back into fashion. For a while nobody wanted to see the framework but now, there's a shift towards wanting to see how a custom shape has been made. For this reason, translucent fabrics are also increasing in popularity. They can be great for showing the details of a structure whilst softening the overall design through layering and even adding a little luxe.
Tracey: I think socially conscious and sustainable designs will dominate 2021 and beyond. The last 18 months has really put a spotlight on where materials are coming from and how we source the components of our designs. I believe that recycling and reusing materials should always be a consideration when designing and that this should always be specified from the offset where possible.
Connect with our industrial design team for your next project today.