AFI Branding 04th November, 2021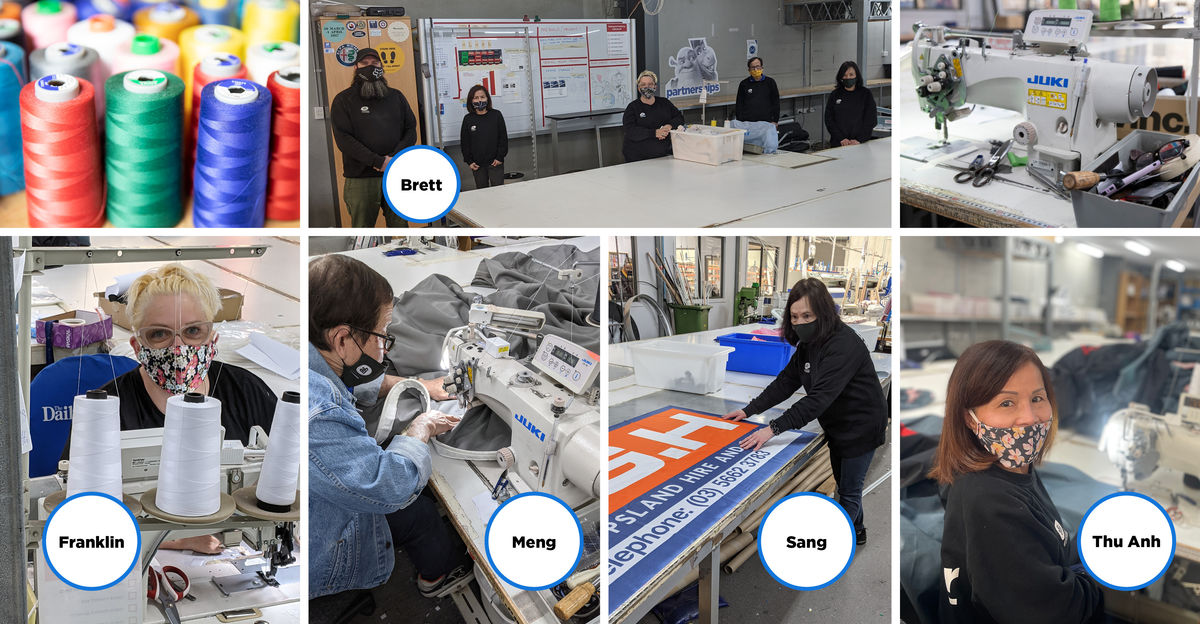 Behind every eye-catching fabric display is usually a pretty awesome sewing team….and AFI's is no exception. Every day our highly skilled team come to AFI to work their sewing magic…usually at a mind-boggling speed and always with big smiles on their faces (even behind the masks!) We enjoy a well-earned coffee with the sewing team to share and celebrate what life as an AFI sewing machinist really looks like.
1. How did you get into sewing?
Franklin: I worked as a stage manager at a local theatre. The show I was managing needed costumes designed and created so I decided to learn the craft to help complete the look and feel of the show. I was 25 years old at the time.
Thu Anh: I started to sew professionally in Vietnam at the age of 25 – I have always had a love of sewing though!
Brett: My love of boating and recreational watercraft is what drew me into the sewing industry – sewing boat covers and upholstery.
Meng: I first got into sewing professionally at the age of 32.
Sang: I started sewing professionally at the age of 21.
2. What was the first thing you ever sewed?
Franklin: The first thing I ever sewed was a rag doll in grade 3 as part of one of my classes.
Thu Anh: My very first project I worked on was a couple of tops, a pair of pants and a skirt for myself!
Brett: My first sewing project was a soft toy dolphin at school in year 7.
Meng: I sewed a few pieces of clothing and the first thing I sewed at AFI was a banner.
Sang: The very first thing I sewed was a shirt at my first sewing job and it took me 3 days to finish it!
3. What does an average day looks like in the sewing team at AFI?
Franklin: A typical day at AFI: Hilarious, a tad messy and VERY fast!
Thu Anh: There's always a little bit of everything, with jobs coming through at a steady pace, one after the other.
Brett: There's no such thing as an average day at AFI! We have such variety of products and bespoke items that come through our department that every day is different which is what keeps it interesting!
Meng: There's lots of different jobs, products and projects.
Sang: As the day goes on, the jobs get bigger and there's always a bit of everything to keep us busy!
4. What's your favourite project that you've worked on at AFI…and why?
Franklin: The 'large people' from the NGV Murray Darling job. I loved that it was so artistic and unique. It was amazing to see how they were used too and know we were a part of that.
Thu Anh: I love working on Reframe fabric walls. I enjoy sewing and fitting them, it's very satisfying!
Brett: I absolutely loved the 'bird cage' job. It was an amazing finished product and really fun to create.
Meng: The NGV Murray Darling job and all the complex jobs that come through the department.
Sang: Double sided bowheads are my favourite, pretty much anything double sided. I love to sew them together.
5. What do you think makes a good sewing machinist?
Franklin: Accuracy, speed… and a good sense of humour! Oh and a lead foot!
Thu Anh: Being able to sew different fabrics and not overthinking the process.
Brett: Understanding the fabrics and their characteristics, being able to maintain and repair sewing machines as you use them, different sewing techniques to finish products in different ways and a good work ethic with attention to detail.
Meng: Well I'm the top sewer here…so me!
Sang: Attention to detail and a really thorough understanding of all the products. Reframes are so easy for me I can practically do them with my eyes closed!
6. What's been your proudest moment in your career so far?
Franklin: Creating costumes and bringing shows to life. Seeing people shine in what I've created.
Thu Anh: Learning and building the skills to work with such a variety of fabrics.
Brett: Being able to continually develop my own skills every day.
Meng: All my work!
Sang: All the skills I have picked up over the years.
7. What are the biggest challenges you face in your role?
Franklin: Time sensitive jobs – trying to juggle different jobs to make sure they go out the door when they need to.
Thu Anh: Our really large prints that have joins in the middle…especially if they have a very detailed pattern that needs to line up across the joins. That certainly requires an eye for detail!
Brett: So much of what we do is bespoke, so as a team we need to ensure that we're always delivering to the specs and directions on each job.
Meng: I have no challenges – I'm good at doing all the jobs!
Sang: Again, no challenges for me!
8. What do you like most about working in the AFI sewing team?
Franklin: Humour and the good will of people. It's fun and there's a great feel and vibe.
Thu Anh: The people and the workplace.
Brett: The people & all the bespoke projects that we do. I love how we take a concept and bring it to life through knowledge of fabrics and how they work. It's also great that we have the freedom to explore how we finish our products and what works best.
Meng: I enjoy working with the team and absolutely love everything involved in the preparation of our work stations. I love to make sure my work station is clean and I have everything ready to go when the next job arrives.
Sang: Frankie!
We're always on the look out for talented industrial sewing machinists and all-round sewing superstars to join our expanding team. If this sounds like you and you like what you read, get in touch today.